History of Acupressure
The oldest history says – Ayurveda is the oldest and best developed of the natural healing traditions of humanity this is not surprising, it is the medical system of India, the oldest of worlds civilizations. "Ayurveda means science of Life"
As we know, the most excellent and prominent among devine sages (Dewataon men shreshtha), the  emperor of kashi named divodas,, who was Bhagawan Dhanawantari, educated Ayurveda to one hundred (deva munies' sons) sons of devine sages. One of them, as we know, "Maharshi Shushrut" was the best surgen of the world. No one has competed till today. He has written in his "Shushrut Sanhita" the following Poem(shlok) in Sanskrit.
The oldest history says – Ayurveda is the oldest and best developed of the natural healing traditions of humanity this is not surprising, it is the medical system of India, the oldest of worlds civilizations. "Ayurveda means science of Life"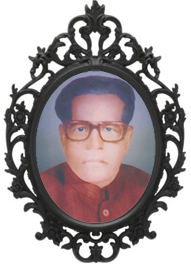 Acupressure Janak
Dr. chandrama Prasad Gupta
siravyadhaschikitsardh Shalyatantre Prakirtitah. Yathaa Pranihitah Samyagwastih Kaaya chikitsite. Means to cure a disease by inducing the method of puncturing, pressuring and heating the body is enough only than the other systems of medicine.
Thus, it shows that India is the origin of this system of medicine "Acupuncture" "Acupressure" and "moxibuition . It is based on the theory of five elements .These are powerful natural forces over following in cyclical motion. According to natural Acupressure system of medicine ,the normal state of health is a dynamic balance of vital energy in the organs in a manner similar to the ecological balance in the Universe.
Any imbalance produces disease in human being .The purpose of Acupressure is to correct this imbalance by combination of points and there restore the state of normal health. Earth itself, has special powers of healing, particularly for deep seated disorders, that we have overlooked in the rush to develop a technologically based medicine. To deal with problems caused by technology, stress, artificial life style and global pollution. We are again seeing the value of there national healing system like Acupressure and its harmless ability. The World Health Organization (W.H.O.) is recognizing this system of medicine (1979).
With the flowering of budhism in india in 563 B.C. learning centres, Universities were encouraged and established especially by the orders of Emperor Ashoka. Hospitals were built and this system of medicine were taught and practiced, especially at Indian Budhist University of Takshashila by budhist monks.
This system of medicine went China, Japan,koriya, srilanka etc. through buddhist movement in 6th B.C. And there is no doubt, China has done more research work due to official aid.
Again in 1972, Acupressure Janak Dr. chandrama Prasad Gupta,(Nechua Jalalpur,Gopalganj,Bihar,India) who was an eminent medical Doctor having a vast practising knowledge of homoeopathy and herbal medicine, conceived this Acupressure system of medicine from the saints like Mahendra Das, Badhu Das and Ram Briksha Bhakta.
Acupressure Janak Dr. Gupta established Indian Council of Acupressure Yoga, Swasthya Jagarukata Mission and Bihar Acupressure Yog College,Gandhi Setu Link Path, East of Biscoman colony Golambar, Patna-7, Bihar, India for its promotion & development all over India and abroad and worked till his life (1986).
.Acupressure JANAK Dr. Gupta called this system of Medicine in hindi_ "Marma Dab Chikitsha" according to the Philosophy of Bhagawan Dhanawantary "the treatment of Marms". Now, these institutions are working smoothly for promotion and development of Marma Dab Chikitsha (Acupressure) all over India and abroad under the guidance of Acupressure Mahaguru Dr.Sarvadeo Parsad Gupta, Dr.(Prof.)Shree Prakash Baranwal and Dr . Ajay Prakash.
..The Minister for Health, Government of Bihar (India) Hon'ble Shree Ashwini Kumar Choubey has been pleased to announce the Acupressure as Marma Dab Chikitsha on "Acupressure Day" the 26 Day of May 2011 on "18th National Congress of Acupressure Yoga-2011". For this kind of work we are grateful to Acupressure Janak Dr. Chandarma Parsad gupta.